Museo Vasco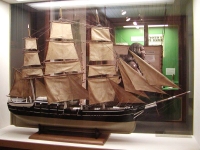 A model ship © Stan Shebs
The Museo Vasco, also known as the Euskal Museoa or Basque Museum, is in the heart of the old quarter of the city, housed in a lovely 17th-century Jesuit cloister. The museum, established in 1921, depicts Basque culture, history and ethnology, and its exhibits span a wide range of interests including weaving, the blacksmith trade, pastoral life, and maritime matters. The displays offer the chance to dip into Basque political and social life, using everything from model ships to reconstructions of rooms and gravestones to guide the visitor along. The maps and the exhibition on traditional music and dancing are highlights. In an outdoor courtyard visitors can see a remarkable stone sculpture called Mikeldi, which is thought to date back to sometime between the 5th and 11th centuries BC. Although not all the information has been translated there are sufficient explanations in English. It is a simple, accessible museum, which children will probably enjoy. Budget at least three hours to take it all in. Conveniently located in the historic centre of town, the Museo Vasco is near a number of cafes and restaurants.
Address: 4 Plaza Miguel de Unamuno.
E-mail: museoa@euskal-museoa.org
Telephone: +34 944 155 423
Opening times: Tuesday to Saturday from 11am to 5pm, Sundays from 11am to 2pm.
Admission: €3, with concessions available. Free for children under 10 and senior citizens.