Museo Canario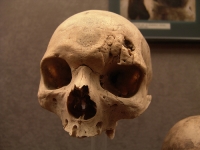 Museo Canario skull © Xosé Castro
The main museum in Las Palmas is well worth a visit, boasting the world's largest collection of Cro-Magnon skulls and a few mummies. The permanent exhibition of the Museo Canario is devoted solely to the aboriginal population of Gran Canaria, who inhabited the islands from the second half of the first millennium BC up until the 15th century. Gran Canaria's original inhabitants, the fair-haired and light-skinned Guanche people, were conquered by the Spanish in the 15th century.
The award-winning museum houses the most complete and comprehensive archaeological collection in the Canary Islands and should be of great interest to anybody keen on archaeology, anthropology, and the ancient history of the Canary Islands. The exhibition covers things like religion and mythology, funerary practices, economic activity and the organisation of society. There is a room full of the skeletal remains of the ancients, which is spooky but fascinating. The information provided in the exhibitions is invariably only in Spanish, but at the entrance you should be given a booklet explaining the displays in your own language. The museum is popular with tourists and is one of the top-rated attractions in Las Palmas.
Address: 2 Verneau Dr.
E-mail: info@elmuseocanario.com
Website: www.elmuseocanario.com
Telephone: +34 928 336 800
Opening times: Monday to Friday from 10am to 8pm, weekends from 10am to 2pm.
Admission: €4 (adults); children under 12 free; concessions available. Free entry on Mondays.