Casa de Colon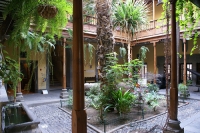 Casa de Colon © pano_pilou
Christopher Columbus is believed to have stayed for different periods in the Casa de Colon, in the historical quarter of Vegueta in Las Palmas. The house now serves as a museum displaying relics of early transatlantic voyages and pre-Columbian cultures, as well as acting as a cultural centre for the study of the Canary Island's relationship with the Americas. The building is a famous example of the architecture of the Canary Islands, with heavy wooden balconies, patios, fountains, and some unusual ornamental features. It was once the residence of Las Palmas's early governors. There are now 13 permanent exhibition halls, a library, and a research centre, containing fascinating artefacts and even some colourful parrots among the palm trees in the courtyards. Although competition is not steep in the city, Casa de Colon is probably the most popular museum in Las Palmas and generally receives rave reviews from visitors. The museum is situated next to the cathedral and is worth an hour or two of sightseeing time in the city.
Address: Columbus Street, Las Palmas
E-mail: casacolon@grancanaria.com
Website: http://www.casadecolon.com
Telephone: +34 928 312 373
Opening times: Monday to Friday from 9am to 7pm; weekends from 9am to 3pm
Admission: €4 (general), €2 (reduced).