Piramides de Guimar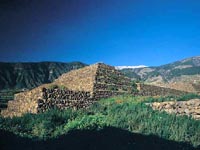 Pirámides de Güímar ©
On the east coast of Tenerife, south of Santa Cruz, stand six mysterious step pyramids of which archaeologists have yet to discern the origin. The pyramids were initially thought to be the remains of agricultural stone terraces, or random piles of stone cleared from fields by early Spanish settlers. However, Thor Heyerdahl, the Norwegian anthropologist who lived in Guimar on Tenerife until his death in 2002, thought differently. His research indicated that the pyramids were constructed on similar principles to those in Mexico, Peru and ancient Mesopotamia. The pyramids are now enclosed in an Ethnographic Park; the site includes a museum, life-size replica of Heyerdahl's reed ship Kontiki, a cafeteria, and souvenir shop. The structures remain the subject of some debate among archaeologists, and the first real excavation of the pyramids, in 1991, didn't reveal anything to help definitively date them. The park, however, is lovely, and is of botanical as well as archaeological interest, with paths winding through miles of Canarian vegetation. There is also a Secret Garden dedicated to poisonous plants. There are picnic areas dotted around the park and it is a good idea to bring a picnic to fully enjoy the area.
Address: Calle Chacona, Guimar
Website: www.piramidesdeguimar.es/en-US/index.aspx
Telephone: +34 922 514 510
Opening times: Daily from 9.30am to 6pm
Admission: Variety of ticket options available. General entry: €11 (adults); €5.50 (children aged 9-12); children under 9 free.