Anuradhapura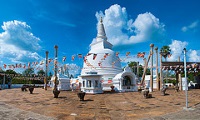 Anuradhapura © Aitor Garcia Viñas
The remains of the ancient city of Anuradhapura are situated about 130 miles (205km) north of Colombo, standing majestically in the jungle that for generations hid away the palaces, monasteries and monuments, which have been there since the third century BC. The ancient city was capital of the island for more than 10 centuries, until an invasion in the year 993; the city is said to have been founded around a fig tree grown from a cutting of Buddha's 'tree of enlightenment'.
The remains visible today consist of several magnificent dagobas (domes built to enshrine sacred relics), sculptures, carvings, ruined palaces and monasteries, bathing ponds and irrigation tanks. The city once had one of the most complex irrigation systems of the ancient world and the reservoir tanks still visible today are some of the oldest surviving in the world. Since the rediscovery of the ancient, ruined city by the British in the 19th century, Anuradhapura has been a Buddhist pilgrimage site as well as an attraction for travellers.
Thought to be the one of the oldest surviving historical trees in the world, the Jaya Sri Maha Bodhi is said to be a sapling from the tree under which Buddha attained enlightenment. The tree was planted in 288 BC, on a high terrace roughly 21 feet (6.5m) above the ground, and is surrounded by a prayer flag-festooned wall built by King Kirthi Sri Rajasingha to protect it from wild elephants. Located in Anuradhapura, the Sri Maha Bodhi is a pilgrimage site for thousands of Buddhist devotees who come to make offerings during the full moon. Visitors must remove shoes and hats before entering the site.
Tourist facilities and hotels are available in the nearby 'new town' of Anuradhapura. A recommended way to view the many scattered archaeological treasures is to hire a bicycle, or travel between sights on a tuk-tuk.
Opening times: Daily 8am-5pm.