Trincomalee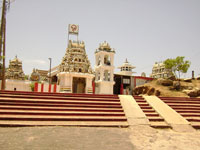 Tirukoneswaram Temple © Umapathy
The ancient port city of Trincomalee (affectionately called Trinco), on the northeast coast of Sri Lanka, has a perfect natural harbour, which has made the town a prize to be fought over by foreign powers for generations. The Danes first took the trophy in 1617 on behalf of the Dutch, but the Portuguese put up a fort and staked their claim a few years later.
By the mid-17th century the port was Dutch again, until the British and French both had a turn at occupation in the late 18th century. During the Second World War the harbour was a strategic British naval base, and it is now home to the Sri Lankan Navy. The beaches in the area, especially those north of Trincomalee at Nilaveli and Uppuveli, are broad, soft and white, lapped by warm, gentle waters. The region is a popular beach resort destination for tourists, as the coastline really is very beautiful, and the natural pleasures can be combined with some good cultural sightseeing in Trinco.
Among the sights to visit is Fort Frederick, built by the Portuguese, and Wellington House, once home to the Duke of Wellington. The Koneswaram Temple (or Thirukonamalai Konesar Temple), at Swami Rock, is an important medieval Hindu temple complex in Trincomalee.