Wewurukannala Temple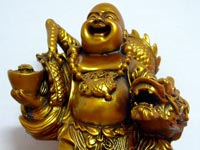 Laughing Buddha © Sudarshan V
Not all Buddhist temples are ancient, nor are they all conservative affairs. The colourful and modern Wewurukannala Temple at Dikwella village near Matara is quite an eyeful, featuring hundreds of brightly painted and gilded models depicting scenes from the life of Buddha and numerous murals. There is also a Buddha effigy that is one of the world's tallest, equalling the height of a five-storey building, which visitors can ascend to enjoy the view from the top.
The Buddha statue is the biggest in Sri Lanka, and other attractions at the temple include a resident elephant, a colourful Image House containing statues of gods and royalty, and the frightening Hall of Sin, which illustrates what is in store for the less-than-righteous in the Buddhist version of hell. Although it is an active temple and tourists should be respectful of worshippers, the temple complex is also full of various touts and salesmen trying to sell things and services to visitors. Those wanting to avoid the crowds should visit early in the morning.
The temple is a short drive from both Dikwella and Matara and can be reached by tuk-tuk - travellers should be sure to negotiate a price before setting off!
Address: Dikwella, Sri Lanka