Yala National Park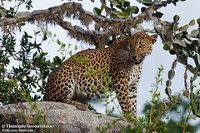 Leopard at Yala © Thimindu Goonatillake
Elephants are the most frequently spotted inhabitants of the vast Yala National Park (also known as Ruhunu), in the southeast of Sri Lanka, east of Matara, but they share the reserve with 130 different species of birds and other creatures like sambhur, spotted deer, sloths, crocodiles, monkeys, wild boar and porcupines. There is also a large concentration of leopards in this, the country's oldest protected area.
Most of the reserve is open parkland, but it also contains jungle, beaches, lakes and rivers. The park is somewhat remote, the nearest town being Tissa, and is situated about 120 miles (193km) from Colombo. Yala is also dotted with a number of fascinating archaeological sites, like the Magul Maha Vihara ruins, dating from the 1st century BC.
Yala National Park was closed for several years due to political conflict in Sri Lanka, but two of the five sections of the part have now re-opened to the public. It is the most visited and the second largest park in the country and is very popular with foreign visitors. The park is almost always explored as part of a safari (a 4x4 vehicle is required to traverse the roads) and the entrance fee includes the services of an animal tracker.