Manneken-Pis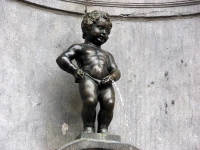 Manneken-Pis © Pbrundel
The distinctive statue has been described as the Eiffel Tower of Brussels and tourists throng the streets in search of the tiny urinating urchin. The bronze mannequin is thought to represent the irreverent spirit of Brussels but there are numerous tales about its beginnings.
Started by Louis XV of France many years ago, it has been the custom of foreign countries, companies, visiting dignitaries, or charities to donate an outfit to the Manneken-Pis and the little boy is usually decked out in the latest costume. Previous costumes are displayed in the City of Brussels Museum.
As the cheeky fountain is one of the most popular attractions in Brussels, visitors can expect large crowds at most times of day, especially in tourist season.
Address: Rue de l'Etuve 31, located two blocks behind the Town Hall at Grand Place
Website: www.brussels.info/peeing-boy
Transport: Catch the Metro to get to the Grand Place. Metro stop: Centrale, Bourse (pre-metro) or De Broukere.
Admission: Free