Morne Fortune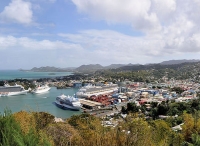 View from Morne Fortune © Robert Cutts
On the outskirts of the city, to the south of Castries and accessed via Bridge Street, stands the hill of Morne Fortune, the 'Hill of Good Luck', where some violent battles were waged between the French and British in the 18th and 19th centuries in their quest to control the island. The view from the lookout on the hilltop is magnificent.
The hill is also the site of Government House, the palatial Victorian edifice that is the official residence of the governor general of the island, with its lovely private gardens. Visitors can explore the military cemetery, an old battery and powder museum, and a small museum exhibiting relics from the island's colonial days.
Address: South of Castries, via Bridge Street.
Website: www.slunatrust.org
Telephone: (758) 452 5005