Folk Research Centre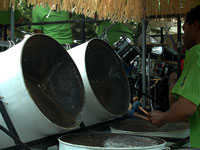 Steel drums © takomabibelot
In the hills east of Castries at the village of Morne Pleasant is St Lucia's Folk Research Centre, housed in an old manor house that was originally owned by the Deveaux family. The centre includes a small but comprehensive museum. Among the exhibits, dedicated to preserving the language and culture of St Lucia's Creole population, is a reproduction of a traditional ti-kay hut and indigenous musical instruments. The centre also contains a research library with a collection of books, papers and photographs detailing St Lucia' folklore and history.
Website: www.stluciafolk.org
Telephone: (758) 452 2279
Opening times: Monday to Friday 8:30am-4:30pm.