Damnoen Saduak Floating Market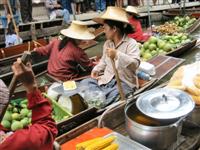 The Damnoen Saduak Floating Market is an escape from the Western-style shopping malls of Bangkok and a glimpse into the past, revealing the centuries-old way of life of the residents whose stilt-houses perch on the canals and make their living selling fruits, vegetables and flowers. Visitors can explore the market with boat trips and sample the wares of local farmers as they do so. They can also enjoy the experience of floating through one of Thailand's many river villages.
Transport: Bus 78 from Bangkok Southern Bus Terminal to Damnoen Saduak Bus Terminal.