Temple of the Reclining Buddha (Wat Pho)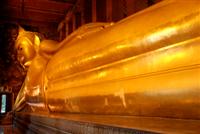 Situated adjacent to the Royal Grand Palace, Wat Pho is Bangkok's oldest, largest and most famous temple, recognised by the UNESCO Memory of the World Programme. The grounds of Wat Pho contain over 1,000 statues of Buddha, and the temple houses one of Thailand's most spectacular sights, the Reclining Buddha: a 157-foot (48m) long and 49-foot (15m) high statue that is gold-plated and inlaid with Mother-of-Pearl on the soles of its feet. In the 19th century King Rama III turned Wat Pho into a centre of learning and is considered the birthplace of the traditional Thai massage. Visitors today can still have a massage and learn about the ancient art of Thai Medicine.
Address: 2 Sanamchai Road
Website: www.watpho.com
Telephone: (0)2 222 5910 or (0)2 226 2942
Transport: Bus 6, 8, 12 (aircon); public buses 1, 25, 44, 47, 62 and 91; or express boat to Tien pier
Opening times: Daily 8am-5pm, massages until 6pm.
Admission: THB 20