Swiss National Museum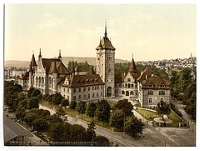 National Museum © Ashley Van Haeften
A fascinating exploration of Swiss national history, the Swiss National Museum has an impressive and varied collection of ancient artefacts, providing visitors with a richer understanding of Swiss life and consciousness through the centuries. Housed in an exquisite castle-like building, with a distinctive tower, the permanent collection contains a comprehensive anthology of artefacts from the Stone Age to modern times. First stop is the archaeology exhibit where tools and articles dating back to before 800BC are on display. Highlights at the museum include the Celestial globe of Jost Bürg (1594), a groundbreaking symbol of European thought, religious reliquaries from the 13th to 16th centuries and ancient wheels, considered to be among the earliest ever found. Another major drawcard is the Armoury, where historic Swiss weaponry used in combat between 800 and 1800BC can be found. Visitors can expect to see crossbows, swords and suits of armour.
Address: Museumstrasse 2
Website: www.nationalmuseum.ch
Telephone: +41 44 218 65 11
Opening times: Tuesday to Sunday 10am–5pm, Thursday 10am–7pm. Closed Mondays.
Admission: CHF 10, concessions available.