Lake Geneva (Lac Léman)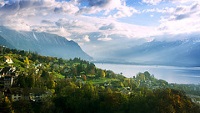 Lake Geneva © Kosala Bandara
The largest lake in central Europe that is shared by both Switzerland and France, Lake Geneva (Lac Léman to its French-speaking inhabitants) has for decades drawn visitors to its shores. Attracted by the alpine panorama, quaint wooden chalet villages, vineyard-covered slopes and sailboats skimming across the blue waters, many famous writers, musical composers, actors and poets came to settle and the area has become something of an inspiration to the arts.
Situated in the westernmost district of Vaud, the region contains a diversity of attractions and activities, from wine-growing villages and mountain ski resorts, picturesque castles, and magnificent cathedrals, to low-key lakeside resorts, boat cruises, and cosy fireside pots of fondue. Sophisticated shopping and cultural life can be found in the cities of Geneva and Lausanne, with sweeping views across the sparkling lake to the Alps and the distinctive pinnacle of Mont Blanc. Among the vineyards and affluent villas clinging to the slopes lie the lakeside towns of Vevey and Montreux, the pearls of the Swiss Riviera.
Scenic winding roads stretch along the shores, and train trips offers outstanding views, while below steamers crisscross the waters of Lake Geneva, offering a variety of ways to experience the splendour of its location.