The Inside Passage Travel Guide
The Inside Passage travel Forum
---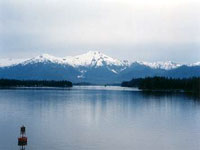 Inside Passage, Wrangell Narrows © Judith Duk
Shaped by the carving of massive glaciers millions of years ago, Southeast Alaska is an astounding region of deep fjords, glaciers, majestic mountains and forests. Known as the 'panhandle', it epitomises classic Alaskan scenery. Thousands of islands form a pristine protected waterway called the Inside Passage that is lined with many charming towns and small villages rich in history. About half of the tourists who travel to Alaska arrive on cruise ships that make their way through the islands of the Inside Passage to ports of call such as Ketchikan, Juneau, Sitka and Skagway.
The area is home to the native cultures of Tlingit, Haida and Tshimshian Indians and the art of totem pole carving, traditional music and dance has been preserved especially in Ketchikan. Russian settlers have also left their legacy of icons and onion-domed churches, having been drawn to the region in search of fur; the region's promise of gold, salmon fishing and forests of timber attracted many profiteers. Today the business of tourism is an additional income-earner for many of the picturesque coastal communities.
The history of the Gold Rush days is especially evident in the town of Skagway at the northern tip of the Inside Passage, once a lawless trading post serving the Klondike Gold Rush pioneers. Juneau is Alaska's attractive capital, with a bustling waterfront and a scenic mountain backdrop, and is the gateway to one of the country's more stunning regions, Glacier Bay National Park.
With no roads connecting the towns the best way to travel is by the Alaska Marine Highway ferry that hops from town to town, or on one of the numerous and very popular cruises that ply the channels. The Alaska Marine Highway is a designated National Scenic Byway and is one of the most beautiful ways to explore Alaska. The deep waters and mild climate provide a prime habitat for whales, sea lions and porpoises, which can often be spotted from the deck. Between the picturesque fishing town of Petersburg and Russian-founded Wrangell is the spectacular Wrangell Narrows that is only 300ft (91m) wide and so shallow in places that the boat is forced into a slalom course of 46 turns to avoid grounding on the channel bottom. Frederick Sound is a prime whale sighting area.
Become our The Inside Passage Travel Expert
We are looking for contributors for our The Inside Passage travel guide. If you are a local, a regular traveller to The Inside Passage or a travel professional with time to contribute and answer occasional forum questions, please contact us.