Calgary Travel Guide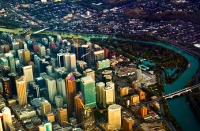 Calgary © Dhinakaran Gajavarathan
Calgary is situated 200 miles (322km) north of the US border, on the banks of the Bow River, below the Rocky Mountains. Although Alberta's second city, Edmonton, is the state capital, Calgary is the largest, offering all the trappings of urban life as the territory's commercial and cultural centre, along with the pleasure of enjoying the dramatic countryside that surrounds the city. Splendid national parks flourishing on Calgary's doorstep act as a magnet for hikers, fishermen and lovers of the great outdoors. The city, set on the Trans-Canada highway, is also the gateway to the Rocky Mountain resorts, which in winter attract skiers from all over the continent.
The downtown area of Calgary not only serves as a shopping, entertainment, cultural and recreation centre for locals, but it is also a tourist centre for more than four million visitors a year who come for the tourist attractions and annual festivals, wonderful parks and open spaces, and a selection of excellent shops, restaurants, cafes and bistros. The city is probably best known for the Calgary Stampede, a world-class cowboy carnival and rodeo that draws more than a million people every year to watch the action and be entertained by its accompanying festivities.
For over 10,000 years the site on which Calgary sits today was home to the Blackfoot Indians; the first European settlers did not arrive until 1860. Colonel James Macleod established the small trading post, Fort Calgary, named after Calgary Bay on his native Isle of Mull in Scotland. The Pacific Railway reached the town in 1883, but it was not until the discovery of oil in Turner Valley, 22 miles (35km) southwest of the city, that the population started to explode. Wander the streets in your Stetson beneath the sparkling skyscrapers built on the back of the oil boom, dine on a juicy steak in a saloon with country music playing in the background, and it will be hard to decide whether you are in Calgary or Texas.
Become our Calgary Travel Expert
We are looking for contributors for our Calgary travel guide. If you are a local, a regular traveller to Calgary or a travel professional with time to contribute and answer occasional forum questions, please contact us.