Canadian Rocky Mountains Travel Guide
Canadian Rocky Mountains travel Forum
---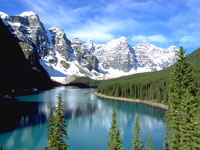 Moraine Lake, Banff National Park © Travel Alberta
The Rocky Mountains of western North America stretch more than 3,000 miles (4,828km) from Mexico, through the United States and into Canada and Alaska. Dividing the Canadian provinces of British Columbia and Alberta, the peaks of the Canadian Rockies tower over the plains rising to 11,975ft (3,650m). The alpine towns sprinkled along the Rockies on the Alberta side are an unspoiled mountain playground where each season has its own unique beauty and selection of activities. National parks abound in this area, offering the chance for mountain adventures and recreation. Canada's largest National Park, Wood Buffalo National Park, is larger than Switzerland. The towns in the area, like Banff and Jasper, offer a vast number of tourist attractions to entertain and entrance visitors all year round to complement the natural attractions.
Become our Canadian Rocky Mountains Travel Expert
We are looking for contributors for our Canadian Rocky Mountains travel guide. If you are a local, a regular traveller to Canadian Rocky Mountains or a travel professional with time to contribute and answer occasional forum questions, please contact us.