Algiers Travel Guide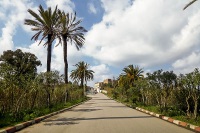 Algiers © Habib Kaki
Located less than three hours' flight from London, Algiers has all the ingredients needed for an ideal holiday destination: a sunny climate, beautiful beaches, UNESCO-certified attractions, and friendly inhabitants. Algiers was a popular vacation spot in the Victorian era, however, security concerns prevent most tourists from visiting the coastal city, and most travellers to Algiers these days are there on business.
Intrepid explorers who find themselves in Algiers, however, should start with a visit to the Casbah, which is the oldest part of the city and is designated a UNESCO World Heritage Site. The Casbah is home to some beautiful mosques, including the El Kebir Mosque, which is the oldest in Algiers.
Another stunning sight is the Notre Dame d'Afrique; the small basilica is a beautiful example of Romanesque architecture and offers great views of the city from the tower. Algiers also has some excellent museums, including the National Museum of Fine Arts, the Military Museum, the Museum of Antiquities, and the Museum of Traditional and Popular Arts.
One of the best ways to enjoy Algiers, however, is to soak up the sunshine. Visitors can do this at the Aquafortland waterpark, or at the seaside resorts like Sidi Fredj, Palm Beach, Douaouda, or the Club of the Pines.
Getting around Algiers is best accomplished in a car or taxi, as public transport is lacking in many areas. Walking is not recommended after dark.
Become our Algiers Travel Expert
We are looking for contributors for our Algiers travel guide. If you are a local, a regular traveller to Algiers or a travel professional with time to contribute and answer occasional forum questions, please contact us.