Pago Pago Travel Guide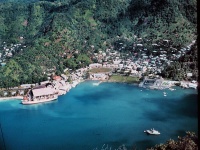 Pago Pago Harbour ©
This tiny city on the island of Tutuila is the capital of American Samoa and boasts a breathtaking harbour, a collapsed volcanic crater and the deepest harbour in the South Pacific, set against the lush mountainous backdrop of Mount Alava and Mount Matafao. Famed for its entertainment and food (particularly seafood like tuna), this port city was a coaling and repair station for the US Navy from 1878 to 1951. These days it is still a regular port of call for all kinds of vessels.
Travellers will find that Pago Pago is a mixture of vibrant and colourful urban communities, tuna canneries and the small port of call town which is surrounded by dramatic plunging cliffs. Head up to Mount Alava for some of the most breathtaking views over the harbour and island, you won't be disappointed; and while you're in town, visit the Jean P. Haydon Museum to learn about the Samoan history, culture, and nature as well as historical artefacts from World War II.
Most travellers seem to use Pago Pago as a thoroughfare to the outlying islands and tourist resorts, and though step outside the town and enjoy the numerous sandy beaches and trails where visitors can admire the stunning natural beauty of this port city.
Become our Pago Pago Travel Expert
We are looking for contributors for our Pago Pago travel guide. If you are a local, a regular traveller to Pago Pago or a travel professional with time to contribute and answer occasional forum questions, please contact us.