Luanda Travel Guide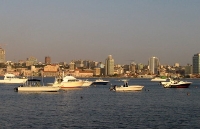 Bay of Luanda © Paulo Cesar Santos
Angola's capital Luanda is a lively, gritty city where construction cranes and luxury cars abound, while the shanty towns at the city's periphery grow larger every week. Angola's oil and diamond riches are funnelled through Luanda to the rest of the world, helping to make this the most expensive city on earth, and yet over 60% of its 5 million people live in abject poverty. For those that can afford it though, Luanda is the place to be. It is the country's main seaport, it is the administrative and residential centre, and home to a surprisingly well connected airport, offering direct flights to most major international cities.

Luanda attracts few tourists, however, and is mostly visited by businessmen and expat workers who shuttle between their project sites and five star hotels. This is a pity because there are some sights of real worth in the city, and whether one is sightseeing or shopping an interesting experience is guaranteed.

Founded by Portuguese colonists in 1575, Luanda became an important seaport and export base for both minerals and foodstuffs, and (more infamously) slaves sent in their hundreds of thousands to the Portuguese colonies in Brazil. Many of these slaves spent their last night in the impressive de Fortaleza de São Miguel, dating from 1576. This structure was the colonial heart of the old city, a well defended citadel that was home to the Portuguese garrison and its merchants. The nearby National Museum of Slavery houses artefacts and images from this terrible time. Luanda's oldest building, and certainly its best loved, is the Igreja Nossa Senhora do Pópulo, a beautiful church dating from 1482 famed for its notable baroque interior. Another church, the Igreja da Nazare, dates from 1664 and is worth seeing for its altar made of Italian rose marble.

The excellent National Museum of Anthropology showcases the incredibly diverse and richly elaborate Angolan tribal culture, and makes for a necessary counterpoint to the gaudy modern wealth on display in the rest of the city. Another modern attraction worth viewing is the Palacio de Ferro, built by Gustaf Eiffel in 1902. The building is currently being restored to its former glory.

The heart of Luanda is the Marginal, the road running along the harbour promenade. Good restaurants and cafés can be found here and it is popular with people from all walks of life. The best beach in town is probably Mussulo, which can be accessed by boat from the main harbour. Also, don't miss a shopping trip to Benfica market where everything from Tupperware to good quality African crafts is sold in a vibrant, cacophonic and richly scented environment that only an African city can provide.
Become our Luanda Travel Expert
We are looking for contributors for our Luanda travel guide. If you are a local, a regular traveller to Luanda or a travel professional with time to contribute and answer occasional forum questions, please contact us.