The Valley Travel Guide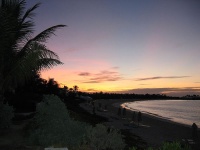 Sunset in nearby Cap Juluca © tiarescott
The Valley is the capital of Anguilla, and although it boasts a population of fewer than 2,000 people it's still the main town and a crossroads for travellers visiting Anguilla; however blink and you might miss it! There's not much to this small town besides a few shopping plazas and compared to the rest of the island even the architecture is lacking, but it does boast a few noteworthy tourist attractions, museums and art galleries.
Anguilla's highest point at 213 feet (65 m), Crocus Hill is the perfect place to get those holiday photographs. The Crocus Hill area of the Valley is home to many popular tourist accommodations due to its breathtaking views over the Caribbean Sea and the rest of Anguilla. But besides coming up here to admire the views, Crocus Hill is also the site of the ruins of the old court house, though nowadays all that remains are the crumbling walls of a few of the basement jail cells.
Another popular attraction in the Valley is the Wallblake House, a plantation home that was built around 1787 by Will Blake and is one of the last remaining plantation houses in the whole of the Caribbean that is still completely intact.
Most travellers use The Valley as a stepping stone for their Anguilla experience - a brick in the path that leads the way to pristine palm-fringed, soft white beaches and warm crystalline waters abundant in a rich and diverse marine life just waiting to be explored.
Become our The Valley Travel Expert
We are looking for contributors for our The Valley travel guide. If you are a local, a regular traveller to The Valley or a travel professional with time to contribute and answer occasional forum questions, please contact us.