Antigua And Barbuda

---

---

---

---

---

---
Antigua Travel Guide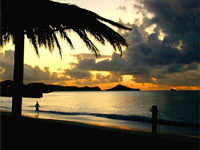 Runaway Beach in Antigua and Barbuda ©
Antigua is the largest of the English-speaking Leeward Islands and is usually the first stop for visitors to Antigua and Barbuda. The island boasts a whopping 365 glorious beaches, a near-perfect climate and plenty to occupy the visitor. Antigua is home to St John's, the island's capital, with the magnificently evocative white Baroque towers of St John's Cathedral dominating the city's skyline. Built in 1845, the church is now in its third incarnation, as earthquakes in 1683 and in 1745 destroyed the previous structures. The towers are the first sight of Antigua for about half of the island's visitors each year, many of whom arrive by boat.
With its recently completed cruise ship dock and many hotels, St John's is a lively hub for shopping and dining. Most tourist activity is confined to the harbour-front complexes of Heritage Quay, a favourite for cruise ship passengers, and the more traditional Redcliffe Quay. For those interested in the early history of the island, there is the Museum of Antigua and Barbuda, housed in the colonial Court House (circa 1750). The museum displays artefacts from the colonial period and from the earlier Arawak settlers who lived on the islands between 35 and 1100 AD. On Friday and Saturday mornings, there is a vibrant farmers market on the southern edge of the city, where folk crafts, colourful tropical fruits and a buzzing crowd make for a lively morning.
Antigua's highest point is Boggy's Peak, at 1,319 feet (402m), but the island is mostly flat and covered with sugar cane, tropical fruit trees, palms and exotic flowers. For those tired of lazing on the beach, there is sailing, diving, snorkelling, beachcombing and other leisurely pursuits on offer.
Become our Antigua Travel Expert
We are looking for contributors for our Antigua travel guide. If you are a local, a regular traveller to Antigua or a travel professional with time to contribute and answer occasional forum questions, please contact us.