Antigua And Barbuda

---

---

---

---

---

---
Barbuda Travel Guide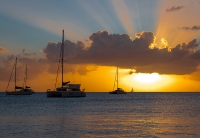 Sunset © Andrew Moore
Barbuda has been left largely undeveloped, open to be enjoyed in its pristine natural state. The island is renowned for its long empty beaches where it is still possible to leave footprints in virgin sand. The breathtaking pink sand beaches of the south-western shore stretch as far as 10 miles (16km) without interruption and are lapped by the gentle Caribbean waters, while those on the island's eastern shore, facing the Atlantic, are somewhat rougher, although still outstanding for beachcombing.
Most of the island is surrounded by a coral barrier reef that provides a rich and colourful marine life and is excellent for snorkelling. There are a number of small resorts on the island that offer watersports facilities, golf and tennis. Nature lovers will find an abundance of wildlife on the island. The wooded interior is home to fallow deer, wild pig and over 170 species of bird while in the island's north-western lagoon is the Bird Sanctuary. Here you will find over 5,000 frigate birds, the most aerial of waterbirds, possessing a massive five-foot (2m) wingspan; sometimes known as the 'man o' war bird', the frigate bird harasses less agile flyers like pelicans, egrets, and cormorants until they drop their catch. Barbuda can be reached easily from Antigua, either by air (a 20-minute flight, twice daily) or by boat (in three hours).
Become our Barbuda Travel Expert
We are looking for contributors for our Barbuda travel guide. If you are a local, a regular traveller to Barbuda or a travel professional with time to contribute and answer occasional forum questions, please contact us.