Buenos Aires Travel Guide
Buenos Aires travel Forum
---
Why? Buenos Aires combines the laid-back ambience of a European capital with the fiery passion of a Latin-American barrio, a combination that makes a Buenos Aires holiday irresistible to most. Travel to Buenos Aires for beaches, delectable shops, stunning weather, colourful neighbourhoods and arguably the best nightlife in the world, all the ingredients for a wonderful holiday in Buenos Aires.
When? Some like it hot, but for many a summer holiday in Buenos Aires may be just a little too hot; it is best to travel to Buenos Aires during spring (September to November) or autumn (March to May) to avoid the soaring mercury in December, January and February. Winters are mild, but this is when most of the rain falls.
Who for? A holiday in Buenos Aires is especially enjoyable for party animals and dance lovers who can tango and salsa the night away in a huge variety of bars, clubs and discos. Beach lovers who travel to Buenos Aires can take excursions to the Atlantic coast resorts south of the city.
---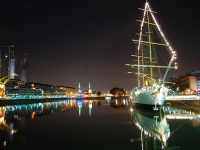 Argentina Puerto Madero at night © Tiago Luiz
Downtown Buenos Aires is as sophisticated as any European city, with its wide avenues, fine colonial architecture and rows of pavement cafes. The city was built by French, Italian and Spanish immigrants and the Porteños (locals) still regard themselves as more European than South American. Travellers walking through the leafy parks and boulevards could be forgiven for thinking they were in Madrid, Paris or Milan.
Buenos Aires was founded on the shores of the Rio de la Plata in 1570 and was named after the patron saint of sailors for the good wind or buen aire. The city remained a colonial backwater for 200 years while the Spanish concentrated their attentions on wealthier Peru. During this time Buenos Aires became a thriving centre for smuggling between South America and Europe. Dissatisfaction with Spanish economic and political dominance escalated to boiling point and culminated in the revolution of May 1810 and finally to independence in 1816. Its history since then has been dogged by military coups and political mismanagement; the consequences of which are growing disaffection with the government and widespread poverty, as is evident in the sprawling shantytowns on the city's outskirts.
This turbulent history has not managed to stifle the indomitable spirit of the Porteños whose passion, charm and vibrancy have forged this great city, a place in which the fire of Evita's soul and the allure of the tango endure. A holiday in Buenos Aires is a journey of discovering the fire that pervades Argentine culture, in everything from food and conversation to music, art and dance.
Become our Buenos Aires Travel Expert
We are looking for contributors for our Buenos Aires travel guide. If you are a local, a regular traveller to Buenos Aires or a travel professional with time to contribute and answer occasional forum questions, please contact us.
iExplore designs made-to-order, privately-guided adventure tours to Argentina and over 200 other world wonders. Come Back Different!
ADVERTISEMENT
---
Intrepid Travel is one of the world's leading suppliers of small group adventures, focused on getting off the beaten track, interacting with the locals and having real life experiences throughout Argentina.
ADVERTISEMENT
---