Buenos Aires Travel Guide
Buenos Aires travel Forum
---
Buenos Aires Travel Guide
Buenos Aires combines the laid-back ambience of a European capital with the fiery passion of a Latin-American barrio, a combination that makes it an irresistible travel destination.
The capital and largest city in Argentina, Buenos Aires is home to roughly 40 percent of the country's population. This bustling metropolis is as cosmopolitan as they get, with a diverse population energetic in its enthusiasm for enjoying city life.
Buenos Aires is consistently rated among the top holiday destinations in the world, and it's easy to see why; visitors looking for a party will find no end of pumping bars and nightclubs, with tango dancing spilling out into the streets; night owls can drink mate or dance into the early hours of the morning.
Buenos Aires is also the shopping capital of Argentina, with plenty of shopping malls and markets for buying souvenirs.
The restaurants in Buenos Aires offer the best in Argentinean cuisine, which means succulent steaks are the specialty of most houses. Restaurants range from al paso (walk through) to fine dining, with plenty of small restaurants offering a range of cuisines representing the local immigrant communities. As Argentina is known for its excellent wine, visitors can take the time to sample the local varietals.
This coastal city offers no end of entertainment for all visitors, young and old. Its passion combines with a sophisticated outlook that makes Buenos Aires a travel destination that will not soon be forgotten.
Best time to visit Buenos Aires
Autumn (March to May) and spring (September to November) are good times to visit Buenos Aires, as the weather is ideal. Summer (December to February) tends to be crowded with tourists, though locals flee the city heat for the beaches and restaurants and museums have reduced hours. October and November is the best time to visit, as the purple jacaranda trees are in full bloom. Read more on Buenos Aires' Climate and Weather.
What to see in Buenos Aires
-Watch the street performers of La Boca and the Plaza Dorrego.
-See the ostentatious Casa Rosada, former home of Juan and Eva Peron.
-Wander around the elaborate monuments of La Recoleta Cemetery.
What to do in Buenos Aires
-Navigate your way across Nueve de Julio Avenue, the widest street in the world.
-Learn to tango in one of Buenos Aires' trendy nightclubs.
-Take the kids to the Buenos Aires Zoo or the Botanical Gardens.
-Catch a polo match or take a lesson.
Beyond Buenos Aires
Buenos Aires is the gateway to Argentina, as most international flights land here. From BA, travellers can spend the weekend at the fashionable beach resorts of Mar del Plata, 230 miles (400km) to the south. Many travellers head north to Cordoba and the rolling plains of the Pampas where the gauchos (cowboys) roam, and further north to the spectacular Iguazu Falls. Montevideo, in across the border in Uruguay, is also accessible from Buenos Aires by ferry.
Getting there
Ezeiza Ministro Pistarini International Airport is located 14 miles (22km) southwest of Buenos Aires, and is connected to the city via shuttles, taxis, and buses. Direct flights to Buenos Aires are available from a number of cities worldwide, including London, Miami, Santiago de Chile, Istanbul, and Moscow. Get more information on Buenos Aires's Airport.
Did you know?
-The Spanish spoken in Buenos Aires is coloured with local slang called Lunfardo, and differs from that spoken in other parts of the country.
-The standard greeting in Buenos Aires is a kiss on the cheek, whether male or female.
-Buenos Aires has the second largest Jewish population (over 300,000) in the Americas, second only to New York City.
---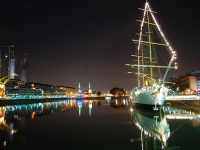 Argentina Puerto Madero at night © Tiago Luiz
Downtown Buenos Aires is as sophisticated as any European city, with its wide avenues, fine colonial architecture and rows of pavement cafes. The city was built by French, Italian and Spanish immigrants and the Porteños (locals) still regard themselves as more European than South American. Travellers walking through the leafy parks and boulevards could be forgiven for thinking they were in Madrid, Paris or Milan.
Buenos Aires was founded on the shores of the Rio de la Plata in 1570 and was named after the patron saint of sailors for the good wind or buen aire. The city remained a colonial backwater for 200 years while the Spanish concentrated their attentions on wealthier Peru. During this time Buenos Aires became a thriving centre for smuggling between South America and Europe. Dissatisfaction with Spanish economic and political dominance escalated to boiling point and culminated in the revolution of May 1810 and finally to independence in 1816. Its history since then has been dogged by military coups and political mismanagement; the consequences of which are growing disaffection with the government and widespread poverty, as is evident in the sprawling shantytowns on the city's outskirts.
This turbulent history has not managed to stifle the indomitable spirit of the Porteños whose passion, charm and vibrancy have forged this great city, a place in which the fire of Evita's soul and the allure of the tango endure. A holiday in Buenos Aires is a journey of discovering the fire that pervades Argentine culture, in everything from food and conversation to music, art and dance.
Become our Buenos Aires Travel Expert
We are looking for contributors for our Buenos Aires travel guide. If you are a local, a regular traveller to Buenos Aires or a travel professional with time to contribute and answer occasional forum questions, please contact us.