Phoenix Travel Guide
Why? Phoenix shimmers in the heat in the great, biologically unique Sonoran desert in central Arizona. For decades people have chosen to travel to Phoenix for the sunshine, and found a modern metropolis with a thriving tourist district, an art neighbourhood packed with galleries, and a number of fascinating natural and historical attractions. Many who come to holiday in Phoenix decide to stay, which is why this is the fastest-growing city in the country.
When? Whenever you choose to holiday in Phoenix, be prepared to sweat it out. The arid climate makes it one of the hottest spots in the world, the temperature regularly soaring above 100°F (38°C), especially between June and September. So those who cannot take the heat are best advised to travel to Phoenix during the winter months when temperatures are slightly milder.
Who for? Golfers are very well catered for on a Phoenix holiday with scenic courses to take a swing at, and there are numerous spas and health resorts for those who enjoy pampering. Hikers enjoy excursions to the surrounding mountains. The city itself offers some good sightseeing and good eating that keeps anyone on holiday in Phoenix more than happy.
More Info: If you plan to head off for a holiday in Phoenix, be sure to consult our Phoenix travel guide, which you can print out to take along with you. It contains all the information you need on Phoenix attractions, activities, restaurants, and more.
---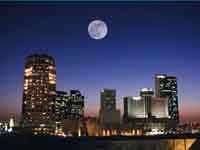 Phoenix © Phoenix VCB
Arizona's capital city, Phoenix, has risen from the mythical ashes of an ancient agricultural Indian village to become a sprawling modern metropolis, the sixth largest city in the USA. Its rapid urban growth has filled what is known as the 'Valley of the Sun', encompassing the neighbouring towns of Scottsdale, Mesa and Tempe as suburbs and is America's fastest-growing urban centre, claiming to have more five-star hotels than any other city in the USA.
With luxurious resorts and spas, glitzy shopping plazas, upmarket restaurants and superb golf courses, together with over 300 days of sunshine a year, the area has become a popular winter getaway for the rest of the country. However while some may know it as a retirement community, it is home to both the University of Phoenix and the University of Arizona as well as over a dozen other colleges, ensuring a huge student population of roughly 200,000.
Phoenix has a number of interesting museums, including the Heard Museum of Native American culture and the Phoenix Art Museum. A scattering of parks, a wide variety of restaurants, and a well-developed arts community makes a vacation in Phoenix an attractive prospect for travellers of all ages.
Phoenix's greatest attraction however, is its location: surrounded by a vast cactus-studded desert and the magnificent scenery of the Red Rock Country around nearby Sedona, whose landscape of canyons, pinnacles and red cliffs have been the setting for numerous 'Wild West' films and novels. The Apache Trail is a winding scenic drive that passes through some of the beautiful rugged terrain of central Arizona, passing ghost towns, ancient ruins and the Superstitious Mountains.
Become our Phoenix Travel Expert
We are looking for contributors for our Phoenix travel guide. If you are a local, a regular traveller to Phoenix or a travel professional with time to contribute and answer occasional forum questions, please contact us.