Little Rock Travel Guide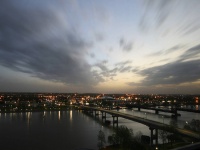 Little Rock © eschipul
The capital and most populous city in Arkansas, Little Rock is named after a small rock formation on the bank of the Arkansas River, called Le Petite Rouche (the little rock) which was used as a landmark by early French colonists travelling the river. With evidence that Native Americans inhabited the area before European settlers landed here, Little Rock has a fascinating history, including playing a major role in the American Civil Rights Movement, and as the former home of then-Governor Bill Clinton. With no end of fascinating stories, Little Rock has plenty of great attractions to explore.

Located in the centre of where the Ozark Mountains, the Ouachita Mountains, and the Mississipi Alluvial Plain come together, Little Rock is nestled in picturesque natural surroundings of forested rolling hills and cliffs that rise above the Arkansas River, making the city feel more like a holiday town than the metropolis and business centre that it is. Featuring stunning parks which boast golf courses, zoos, playgrounds, walking trails, mountain climbs, baseball diamonds and picnic areas, you don't have to leave the city to enjoy the fresh air.

Visit the oldest surviving Capitol building west of the Mississippi, shop for unique antiques and trinkets around town, take a ride on a riverboat down the Arkansas River, take a drive through the picturesque historic Quapaw Quarter and view the Villa Marre, the home featured in the 1990s sitcom, Designing Women, while avid golfers can enjoy teeing off on a championship course.

Nature lovers can hook a fish at a world-class trout stream, walk in Ouachita Mountains where the Hot Springs National Park awaits, or enjoy breathtaking views, pristine lakes and rivers and vast underground caverns in the Ozark Mountains and River Valley. With a little something for every kind of traveller, the city of Little Rock is worth a visit for all who visit Arkansas.
Become our Little Rock Travel Expert
We are looking for contributors for our Little Rock travel guide. If you are a local, a regular traveller to Little Rock or a travel professional with time to contribute and answer occasional forum questions, please contact us.