Yerevan Travel Guide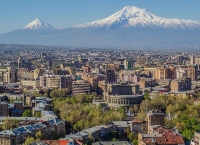 Yerevan © Serouj Ourishian
With the majestic snow-capped Caucasus Mountain range as a backdrop, Yerevan is one of the world's oldest continuously-inhabited cities. During its Soviet days, Yerevan was known as the 'pink city' due to the colour of the stone used in its buildings.
Most tourists tend to stick to the centre of the city, which is easily explored on foot, where they can expect to see some fantastic architecture, wide avenues and an atmosphere reminiscent of Vienna or Paris. Visitors shouldn't miss the Republic Square Singing Fountains, which are illuminated and accompanied by music every night for two hours. The rest of the city is easily traversed by a reliable metro system, which apart from being convenient, is beautifully decorated and worth using just to see the blend of Armenian motifs and ex-Soviet architecture.
Yerevan is rich in culture and lovers of classical music will find many venues and performances to entertain them, including concerts at the Cascades and Lover's Park. Cafe culture is predominant here, with many sidewalk venues staying open late. Visitors can enjoy a glass of locally-brewed Cognac and even tour the Ararat Cognac Factory. Travellers should also note that smoking is a national pastime and although smoking laws are gradually being implemented many restaurants and public places can still be polluted with cigarette smoke, especially during the winter months when it is too cold to smoke outside. For this reason, the best time to visit Yerevan is during the summer months when fresh air and warm days outdoors are the order of the day.
Become our Yerevan Travel Expert
We are looking for contributors for our Yerevan travel guide. If you are a local, a regular traveller to Yerevan or a travel professional with time to contribute and answer occasional forum questions, please contact us.