Salzburg Travel Guide
Why? The hills (or rather mountains) around Salzburg, as well as the city itself, are indeed alive with the sound of music. But if you travel to Salzburg you will find this Austrian chocolate-box city is also a visual delight, its opulent Baroque castles, palaces, concert halls and churches a feast for the eye and the soul.
When? Salzburg experiences a long, beautiful summer lasting from Easter through to mid-October, but the most popular months for a holiday in Salzburg are July and August, when the main festivals take place. Obviously, though, these are also the most crowded months when tourists throng the streets. Winter brings winter sports enthusiasts into the city on their way to or from the ski slopes.
Who for? Any classical music-lover worth his or her salt should not miss a holiday in Salzburg, hometown of Mozart, but the city is also a haven for romantics who will revel in the scenery, architecture and lyrical setting.
More info: If you are planning a holiday in Salzburg make sure you 'know before you go' and consult our Salzburg travel guide for a detailed overview of the city and information about the major attractions. The guide is updated regularly and can be printed out to take with you.
---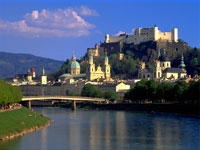 Salzburg in Austria © Austrian National Tourist Office
Until 1816 Salzburg was a city-state, independent of the Hapsburgs and ruled by powerful prince-archbishops. It is situated on the northern border of Austria, 70 miles (113km) southeast of Munich, in a picturesque setting surrounded by mountains. Mozart was born here and the city's fascination with its most famous son is best demonstrated during the Salzburg Festival, which presents world-class performances of opera, drama and concerts each summer. Even the non-musically minded will find it difficult to avoid Mozart's impression on the town - his image is on every postcard and chocolate box and both his birthplace and family house are now museums offering detailed insight into his life and work.
The city is also the home town of Baroque and the south side of the river is a Baroque masterpiece of charming churches, squares, houses and fountains. The original buildings were cleared in the late 1500s by Prince Archbishop Wolf Dietrich von Raitenau in order to create a 'German Rome'. All sights are within walking distance from the spacious old city (Altstadt), which is now largely pedestrianised. A few miles to the south of the city are the historic towns of Hallein and Werfen and to the west are the lakes of Salzberger, which are especially worth visiting during the spring and summer when the wild flowers are out.
Become our Salzburg Travel Expert
We are looking for contributors for our Salzburg travel guide. If you are a local, a regular traveller to Salzburg or a travel professional with time to contribute and answer occasional forum questions, please contact us.