The Islands Travel Guide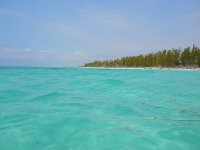 Grand Bahama Island © Averette
With a subtropical climate, pristine beaches and top-class tourism infrastructure, it is no surprise that the islands and cays of the Bahamas archipelago are some of the world's top tourist destinations. Each island has its own charm and beauty, attracting thousands of visitors each year and offering something for everyone. Andros Island is not only the biggest of the islands, but also boasts the third biggest reef in the world, and is thus a haven for snorkellers and scuba divers. New Providence Island is a bustling hub of activity, with plenty of sights, sounds and activities for the visitor to enjoy. New Providence also provides easy ferry and car access to the resorts at neighbouring Paradise Island, as well as the fun and festivity of the nation's capital, Nassau.
The northernmost islands of North and South Bimini are the closest to the US, and draw serious fishermen seeking the catch of a lifetime. Named after the Greek word for freedom by English pilgrims seeking religious autonomy, Eleuthera Island, east of Andros, is a popular escape, with plenty to explore and enjoy.
The rest of the islands all have something to reel in the visitor and sunseekers, fishermen, sailors and watersports enthusiasts flock to these islands time and again to experience the magic of the Bahamas.
Become our The Islands Travel Expert
We are looking for contributors for our The Islands travel guide. If you are a local, a regular traveller to The Islands or a travel professional with time to contribute and answer occasional forum questions, please contact us.