Dhaka Travel Guide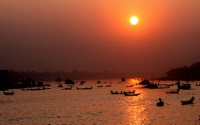 Buriganga River, Dhaka © Nasir Khan
The enormous capital of Bangladesh, Dhaka is considered a megacity with more than 15 million inhabitants. Dhaka is known by several names, including the City of Mosques and the Rickshaw Capital of the World, but the bustling metropolis is simply a grand adventure for travellers.
Dhaka has a long history going back to the 7th century, ruled at various times by the Buddhist kingdom of Kamarupa, the Hindu Sena Dynasty, and the Islamic Mughal Empire before being colonised by the British.
Since its independence in 1971, Dhaka has developed into a modern city and a centre for culture, industry, commerce, and politics in South Asia. However, a visit to Old Dhaka will give visitors a glimpse of a more traditional way of life, and roadside bazaars and crowded docks make a steep contrast to the gleaming shopping malls and expensive restaurants of neighbourhoods like Gulshan and Banani.
Dhaka's colourful history means it has a wealth of religious and cultural sites, including churches, mosques, temples, and monasteries. A few must-see places include the Baitul Mukarram Mosque, the Kamalapur Buddhist Monastery, and the Saat Masjid.
There are also a number of excellent museums in Dhaka, including the National Museum of Science and Technology, the Liberation War Museum, the National Museum, the Bangabandhu Memorial Museum, and the Charukola Institute of Arts and Crafts. Other enjoyable activities include a cruise on the Sadarghat River Front, an elephant ride at the Dhaka Zoo, or a picnic in the lush Baldha Garden.
Dhaka is a noisy, crowded city, and there is always something new to see or do there. Adventurous travellers will love its colourful, eclectic ways and are sure to have an unforgettable experience.
Become our Dhaka Travel Expert
We are looking for contributors for our Dhaka travel guide. If you are a local, a regular traveller to Dhaka or a travel professional with time to contribute and answer occasional forum questions, please contact us.