Sylhet Travel Guide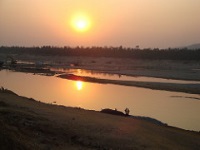 Sylhet © Ochena Toufiq
Also known as Jalalabad, Sylhet is a city in northeast Bangladesh set amidst rainforests, waterfalls, river valleys and rolling hills in the picturesque Surma Valley. Though overlooked by many travellers in southern Asia, a holiday in Sylhet is a must on any trip to Bangladesh.
Sylhet is a major hub of the tea industry, and the hills surrounding the city are covered in terraced tea plantations. Visitors can learn more about tea processing, and relax in the tranquil setting of the tea gardens at the Tea Research Institute in Sree Mangal. The area is also home to pineapple, rubber, and lemon plantations, especially around Madhabkunda.
Sylhet is the most cosmopolitan city in Bangladesh, and English is spoken more widely here than anywhere in the country. Large shopping malls are practically everywhere, however shoppers should not expect a wide variety of imported goods. A better place for souvenir hunting is in the shops around the Lamabazar area, where the famous local Monipuri fabric can be found.
Most of Sylhet's attractions are not located in the city itself, however, but in the surrounding valleys. The Lawachara Rain Forest is a great place for wildlife-spotting, including gibbons, leopards, and python. The Rema-Kalenga Wildlife Sanctuary, located 80 miles (130km) from Sylhet, makes a great excursion as well, offering guided hikes. The Bangladesh-India border also offers scenic views at Tamabil Jaflong.
Much quieter than bustling Dhaka, Sylhet is a great way to get a feel for life in Bangladesh, and a wonderful place to enjoy the tranquil beauty of southern Asia.
Become our Sylhet Travel Expert
We are looking for contributors for our Sylhet travel guide. If you are a local, a regular traveller to Sylhet or a travel professional with time to contribute and answer occasional forum questions, please contact us.