Brussels Travel Guide
Why? Travel to Brussels, capital of Belgium, and you will feel you are in the heart of Europe, for this is the headquarters of the European Union. Beneath the glass office buildings, however, this ancient city retains its medieval core where tourists who holiday in Brussels can enjoy the atmospheric architecture, fine wining and dining and upmarket shopping for which this cosmopolitan city is renowned.
When? Like most of Europe, the best time to holiday in Brussels is during summer, but this will not guarantee sunshine because in this wet city it can, and does, rain often all year round.
Who for? 'City breaks' package deals have become a popular way to travel to Brussels from other European centres, enjoyed by couples and families. The city is also a 'must see' for anyone intent on a comprehensive European tour.
More Info: To plan your Brussels holiday make use of our detailed Brussels travel guide which contains a vast amount of information, from entry requirements and airport facilities to attractions and excursions.
---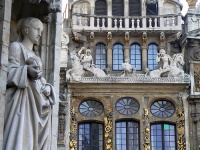 Brussels Market Square © e³°°°
Home of the European Union, Brussels has become a bustling centre for bureaucrats and businessmen and is a thriving cosmopolitan metropolis. The buildings in the city are a fascinating mix of architectural styles, and there are numerous museums of interest throughout. Within the 14th-century city walls is the compact centre of the old city with the beautiful Grand Place at its heart. Visitors rarely stray beyond the walls of the 'petit ring' of the city centre, clearly defined from the newer glitzy quarters by its narrow maze of streets. This is where the key sights can be enjoyed, together with the best bars and restaurants.
Visitors can experience the beauty of the art and architecture, marvel at the bizarre sight of the Mannekin-Pis statue, and spend time shopping for traditional souvenirs such as Belgian chocolate and lace. The National Opera House and many other theatres host a variety of events and concerts for those wanting some high culture, and there are plenty of restaurants offering gastronomic delights. These outings can be rounded off by a drink or two in any one of the lively bars located near the Grand Place.
Vibrant and energetic, Brussels is a city of museums and architecture among Europe's finest, a shopper's fantasy and a diner's capital.
Our Travel Expert
Maria L'Episcopo is an architect born and raised in Turin, Italy. Since 2006 she has moved to different countries around the world to work as project manager for the construction sites of the Olympic Games. She moved to Brussels last October and is currently working for NATO for a project related to the construction of the new Headquarters. The passions of her life are travelling, culture and sport.
>Read Maria's tips on Brussels
>Ask Maria a question
---
Become our Brussels Travel Expert
We are looking for contributors for our Brussels travel guide. If you are a local, a regular traveller to Brussels or a travel professional with time to contribute and answer occasional forum questions, please contact us.
---