Lake Titicaca Bolivia Travel Guide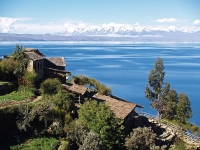 Lake Titicaca, Bolivia © Anthony Lacoste
Regarded as the highest navigable lake in the world, at 12,580ft (3,825m) above sea level, Lake Titicaca covers 3,861 square miles (10,000 sq km) and is shared by Bolivia and Peru. It has clear water, numerous islands and most importantly, a place in Inca history. The indigenous people who live in settlements around the lake hold it, and its two islands - Islas del Sol (Island of the Sun) and Islas de la Luna (Island of the Moon) - in high regard, for they are the mythical sites of the creation of the Inca people.
The main town in the area and base for exploring the islands is Copacabana. Boats depart every day to the islands from which there are stunning views across the lake to the snow-capped peaks of the Andean range, looming higher than 19,685ft (6,000m).
The islands themselves are incredibly picturesque and the friendly local people have retained their traditional culture and way of life. Fishermen sail by on handmade reed boats, llamas and alpacas are herded along the mountain paths to villages scattered on the hillsides. Of interest are a few Inca ruins, among them the Sun Temple and the Chincana complex on Islas del Sol, and Inca stairways. Spending a night on Islas del Sol, in one of the pretty guesthouses, experiencing local hospitality, good food, and breathtaking sunsets are the highlights of a trip to Lake Titicaca.
Become our Lake Titicaca Bolivia Travel Expert
We are looking for contributors for our Lake Titicaca Bolivia travel guide. If you are a local, a regular traveller to Lake Titicaca Bolivia or a travel professional with time to contribute and answer occasional forum questions, please contact us.
Tour operator G.A.P Adventures has for the past 14 years specialised in unique, small group, grassroots adventure travel experiences in the world's most wild places, going off the beaten track into the heart of the destination to meet the locals who call it home. G.A.P. Adventures offers several expeditions to the Bolivian Amazon and Andes.
ADVERTISEMENT
---
Intrepid Travel, one of the world's leading suppliers of small group adventures, focuses on getting off the beaten track, interacting with the locals and having real life experiences throughout Bolivia.
ADVERTISEMENT
---