Potosi Travel Guide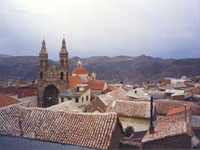 Potosi © Judith Duk
UNESCO declared Potosi a World Heritage Site because of its rich history and colonial-era Spanish architecture. Potosi is known as the Imperial City and is situated at the foot of Cerro Rico (Rich Mountain), famed for its mineral wealth. The Spanish created one of the most important and populous cities on the continent, after the discovery of the silver-rich mountain, in 1545. Situated at an altitude of more than 13,123ft (4,000m), it is also the highest city in the world, although not now quite the thriving metropolis that it once was. There is still a Spanish saying 'valer un Potosi' (to be worth a Potosi), meaning 'to be worth a fortune', which shows how large the rich city once loomed in the colonial imagination.
The architecture is undoubtedly Potosi's main attraction, with a distinct Spanish influence evident in the houses and beautiful churches. There are an astounding 80 colonial churches in the city, filled with art and artefacts from the city's long history. Arguably the most notable of these are the Convent of San Francisco and the Convent of Santa Teresa.
A visit to the city is nicely complemented by a tour of one of the cooperative mines of Cerro Rico, where miners, often working in appalling conditions, chip away at the rock walls in the hope of riches to come. Though very interesting, the mines are emotionally harrowing and there are physical risks involved, but exploring them remains a very popular activity for adventurous visitors.
Become our Potosi Travel Expert
We are looking for contributors for our Potosi travel guide. If you are a local, a regular traveller to Potosi or a travel professional with time to contribute and answer occasional forum questions, please contact us.
Tour operator G.A.P Adventures has for the past 14 years specialised in unique, small group, grassroots adventure travel experiences in the world's most wild places, going off the beaten track into the heart of the destination to meet the locals who call it home. G.A.P. Adventures offers several expeditions to the Bolivian Amazon and Andes.
ADVERTISEMENT
---
Intrepid Travel, one of the world's leading suppliers of small group adventures, focuses on getting off the beaten track, interacting with the locals and having real life experiences throughout Bolivia.
ADVERTISEMENT
---