Santa Cruz De La Sierra Travel Guide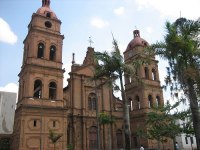 Santa Cruz de la Sierra © Patrick Furlong
Commonly known as just Santa Cruz, the largest city in Bolivia was founded in 1560 by Spanish conquistador Ñuflo de Chávez. In contrast to many other cities in Bolivia, Santa Cruz is a mere 1,365 feet (416m) above sea level and enjoys a tropical feel that makes it an ideal break from the often harsh conditions of the Bolivian Andes. Many travellers visit Santa Cruz only as a transit destination, as flights to Bolivia have an easier time landing at Santa Cruz than navigating the mountains around La Paz. Santa Cruz is a fascinating travel destination in its own right, however, and worth at least a day or two of exploration.
A traditionally wealthy city, its fortunes built on railroads and oil refining, downtown Santa Cruz is a pretty area with many shops, restaurants and museums. Strolling through town is a great way to take in the beautiful colonial architecture, especially the numerous churches, and both locals and tourists take advantage of the idyllic climate to gather in the Plaza 24 de Septiembre to play chess, feed the pigeons, or sip a glass of wine at an outdoor cafe.
The city is known as the fashion capital of Bolivia, and locally made clothing is a popular Santa Cruz souvenir. The city's cosmopolitan ambience extends to art galleries, museums, discos and restaurants, which offer the widest selection in Bolivia.
The convenience and comfort of Santa Cruz makes it an ideal base to explore some of the most popular attractions in Bolivia, including Park Amboro, and the historical Jesuit missions. There are also daily flights to La Paz, and buses available to numerous other destinations.
Become our Santa Cruz De La Sierra Travel Expert
We are looking for contributors for our Santa Cruz De La Sierra travel guide. If you are a local, a regular traveller to Santa Cruz De La Sierra or a travel professional with time to contribute and answer occasional forum questions, please contact us.
Tour operator G.A.P Adventures has for the past 14 years specialised in unique, small group, grassroots adventure travel experiences in the world's most wild places, going off the beaten track into the heart of the destination to meet the locals who call it home. G.A.P. Adventures offers several expeditions to the Bolivian Amazon and Andes.
ADVERTISEMENT
---
Intrepid Travel, one of the world's leading suppliers of small group adventures, focuses on getting off the beaten track, interacting with the locals and having real life experiences throughout Bolivia.
ADVERTISEMENT
---