Sucre Travel Guide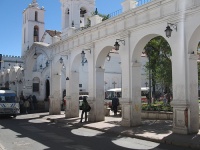 Sucre © victorsounds
The constitutional capital of Bolivia, Sucre encompasses a UNESCO World Heritage Site in its historic city and is known as the 'City with Four Names' due to a few name changes over its lifespan. Eventually Sucre was named after the man who fought for its independence from the Spanish conquistadores, alongside the country's liberator Simón Bolivar in 1825, Mariscal Antonio Jose de Sucre.
The picturesque city of Sucre is also known as a university city home to one of the oldest seats of learning in the Americas, San Francisco Xavier University, which was founded in 1625. For the many young people and students who live here there are great bars, restaurants, museums, shopping and nightlife opportunities to choose from - a positive draw card for tourism in the city.
The small city is easy to get around and travellers will enjoy taking in the sights on foot, particularly the unique architecture of the old white colonial buildings with their red-tiled roofs and characteristic balconies, which capture the essence of the Spanish era in Bolivia. Visit the Casa de la Libertad on the main plaza, where the declaration of independence was signed by Simón Bolivar in August 1825; marvel at the renaissance, baroque and Andean Baroque architecture of La Catedral; or simply stroll around town exploring the nooks and crannies and taking pictures of beautiful buildings.
Become our Sucre Travel Expert
We are looking for contributors for our Sucre travel guide. If you are a local, a regular traveller to Sucre or a travel professional with time to contribute and answer occasional forum questions, please contact us.
Tour operator G.A.P Adventures has for the past 14 years specialised in unique, small group, grassroots adventure travel experiences in the world's most wild places, going off the beaten track into the heart of the destination to meet the locals who call it home. G.A.P. Adventures offers several expeditions to the Bolivian Amazon and Andes.
ADVERTISEMENT
---
Intrepid Travel, one of the world's leading suppliers of small group adventures, focuses on getting off the beaten track, interacting with the locals and having real life experiences throughout Bolivia.
ADVERTISEMENT
---