Gaborone Travel Guide
Why? Choose to travel to Gaborone in Botswana if you have limited time in Southern Africa but wish to get a taste of wildlife viewing. This sprawling city, not too far from Johannesburg, is on the doorstep of the Mokolodi Nature Reserve offering game drives and walks, and the city itself boasts some good souvenir shops where you can find bargain mementoes of your Gaborone holiday and a lively night-life.
When? Gaborone is hot and dry throughout the year, the only rainfall that can mar your holiday, falling in summer as sudden, heavy showers that quickly dry up. Summers can be blisteringly hot, and during winter it is chilly at night. The best time to travel to Gaborone is during spring or autumn (September/October or March/April/May).
Who for? Wildlife enthusiasts intent on enjoying a safari in one of Botswana's famed game parks travel to Gaborone as the gateway to their adventures.
More Info: Everything you need to know for a holiday in Gaborone, from airport facilities to currency exchange and health information, is contained in our comprehensive Gaborone travel guide.
---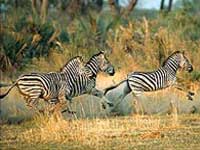 Mokolodi Game Reserve © Department of Tourism of Botswana
Gaborone, the capital city of Botswana, may not be big on tourist attractions but it is a vibrant, if small, sprawling modern city that provides several international hotels (two with casinos) and all the souvenir shops, restaurants and services that visitors, drawn to the country for the abundant wildlife, will need. There are also a few sights to see and excursions to enjoy for those who only have a day or two in which to experience the country.
Pride and joy of Gaborone is its University and National Museum, which features some outstanding exhibits. One of the most striking of the modern tall buildings is Orapa House, where Botswana's diamonds are sorted and dispatched to markets around the world.
The old part of the city, known as the 'Village', is where one finds remnants of Botswana's colonial history, such as the remains of the old Government Rest House, where the infamous Jameson Raid was believed to have been planned and where Cecil John Rhodes sometimes stayed.
Become our Gaborone Travel Expert
We are looking for contributors for our Gaborone travel guide. If you are a local, a regular traveller to Gaborone or a travel professional with time to contribute and answer occasional forum questions, please contact us.