Okavango Delta Travel Guide
Okavango Delta travel Forum
---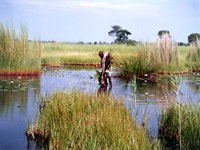 Okovango Delta © Judith Duk
The Okavango Delta in northwest Botswana is unique. The annual flood of fresh water that gathers here from Angola's western highlands slowly spreads for more than 5,800 square miles (15,000 sq km) over the Kalahari Desert forming a maze of lagoons and channels. The thousands of islands that arise sustain several diverse ecosystems, which are home to vast numbers of game and a myriad of birds, while the champagne-coloured waters support a varied array of aquatic life.
The height of the flood occurs in August each year, and as it recedes in its constant cycle, the delta shrinks. At its lowest level the delta covers about 2,300 square miles (6,000 sq km).
As the flood increases, so does the wildlife that congregates in huge numbers between May and October each year. The delta draws large numbers of animal populations that are rare, such as crocodile, red lechwe, sitatunga, wild dogs, buffalo and wattled crane. The familiar favourites are there in force too - various antelope, elephant, giraffe, hippo, lion, leopard and the like.
Numerous game camps and lodges are located in the Delta catering to the range of visitors who come to enjoy the teeming flora and fauna and admire the lush green beauty of the waterways. The favoured way to travel through the Delta's channels is on a makoro, a dugout canoe, poled by a local guide.
The town of Maun is the administrative centre of the Delta region and has an airstrip which serves as landing point for most incoming visitors to the Okavango. Countless safari and air charter companies operate in the town, which has been transformed from a rural outpost by the advent of tourism, although it is still a little rough around the edges. It extends along the Thamalakane River, and now boasts good shopping centres, hotels, banks and lodges.
Become our Okavango Delta Travel Expert
We are looking for contributors for our Okavango Delta travel guide. If you are a local, a regular traveller to Okavango Delta or a travel professional with time to contribute and answer occasional forum questions, please contact us.