Belo Horizonte Travel Guide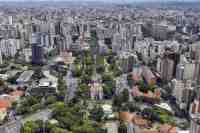 Belo Horizonte © Marcus Desimoni
Belo Horizonte, known to locals as Beagá, was named for the views afforded by its lovely mountainous backdrop. Today it is a huge, sprawling city, better known for skyscrapers than any natural beauty. But the city remains popular, filled as it is with plenty of character and charm. It is the capital of Minas Gerais state, in south-eastern Brazil, and despite its size, Belo Horizonte has some very picturesque neighbourhoods, with wide avenues and many parks and lakes providing respite from the urban sprawl. Mangabeiras Park, one of Belo Horizonte's biggest and most beautiful green spaces, affords wonderful views of the city. Beagá is also home to a number of interesting architectural gems, many of which can be found in Pampulha, the stately neighbourhood surrounding the man-made lake of the same name, which houses a complex of buildings designed by the legendary Oscar Niemeyer.
Belo Horizonte has a full calendar of events and festivals, with bustling markets and a booming restaurant scene to keep visitors entertained. Known as the 'capital of neighbourhood bars', the city hosts the Comida di Buteco festival, in which a number of selected bars compete to have the best pub grub. The population is renowned to be friendly, and it only takes one visit to a famous neighbourhood bar to connect with the locals.
Become our Belo Horizonte Travel Expert
We are looking for contributors for our Belo Horizonte travel guide. If you are a local, a regular traveller to Belo Horizonte or a travel professional with time to contribute and answer occasional forum questions, please contact us.