Curitiba Travel Guide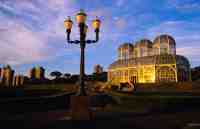 Curitiba Botanical Gardens © Jhowcs
Curitiba is all about efficiency and innovative urban planning, making it somewhat unique by Brazilian standards. The city's infrastructure is unparalleled and a determined tackling of social ills like poverty and pollution has left it impressively clean, green and functional. Curitiba, the capital of the southern state of Parana, is an important economic, cultural and political centre in Latin America and a major Brazilian success story. Some travellers may feel that the city lacks the messy tropical sex appeal typical of Brazil, but Curitiba is a perfectionist's haven in a generally unpredictable country, and is a good place to relax and soak up some culture.
Curitiba welcomes more than two million tourists a year and visitors will find ample accommodation, great tourist infrastructure and plenty of sightseeing opportunities in the city, including the many parks and gardens that contribute to the city's environmentally-responsible reputation. Popular tourist attractions include the botanical gardens, the Oscar Niemeyer Museum, Barigui Park, Tangua Park, the Metropolitan Cathedral, the Paco da Liberdade Cultural Centre, and the Santa Felicidade neighbourhood which boasts many restaurants. Getting around Curitiba is easy and the downtown area has been conveniently pedestrianised.
Become our Curitiba Travel Expert
We are looking for contributors for our Curitiba travel guide. If you are a local, a regular traveller to Curitiba or a travel professional with time to contribute and answer occasional forum questions, please contact us.