Recife Travel Guide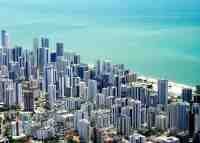 Recife © guilherme jofili
Recife boasts all the highlights associated with most Brazilian cities, all rolled into one dynamite tourist package. The coastal city offers a balance of culture and more hedonistic entertainment, with a well-preserved historic centre, a fabulous restaurant scene, lovely beaches, and its own exciting Carnival. Recife, the largest city and capital of the state of Pernambuco, is a port city, and its location on a network of islands and estuaries, linked by numerous bridges, has earned it the moniker 'the Brazilian Venice'. The city is named for the offshore reefs (recifes) which keep the waters along its shoreline pleasantly calm and protected. The cityscape is in many ways picturesque, but travellers should note that Recife is a heavyweight industrial city, and is dominated by lofty skyscrapers; although the tourism sector is booming thanks to the beautiful beaches, Recife has always attracted many business travellers as well as those in search of fun and sun.
The beach of Porto de Galinhas, just south of the city, has repeatedly earned the title of best beach in Brazil, not a mean feat in a country celebrated for its coastlines. Those seeking a more quaint, historical holiday, should consider staying just beyond the urban sprawl in the UNESCO-listed town of Olinda, which provides laid-back colonial charm as well as easy access to energetic Recife.
Become our Recife Travel Expert
We are looking for contributors for our Recife travel guide. If you are a local, a regular traveller to Recife or a travel professional with time to contribute and answer occasional forum questions, please contact us.