Salvador Da Bahia Travel Guide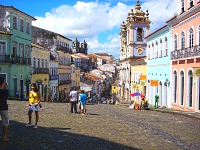 Salvador da Bahia © bartek500
Salvador de Bahia is Bahia state's capital city with a pulse and vibrancy that will linger in the minds of visitors long after they have left its golden shores. Salvador was founded in 1549, quickly becoming the premier city in Brazil and the second most important city in the Portuguese Empire after Lisbon. Salvador prospered in the 17th and 18th centuries; it was the country's major port and a significant portion of the sugar from the northeast and gold and diamonds from the mines in the southeast passed through the city.
Today, the wealth of impressive colonial architecture is evidence of the city's rich history. Between the modern tower blocks, well-restored enclaves of the old city remain with cobblestone streets, colourful mansions, and dozens of ornate Baroque churches. The São Francisco Church and Convent, a high-baroque cathedral located in downtown Salvador, has to be seen to be believed. Funded by the sugar barons of the area, and built between 1708 and 1723, the cathedral's interior is literally plastered with gold, while precious stones and Sistine Chapel-like paintings adorn the ceiling. Most churches are open to the public and many have been turned into museums.
The spicy atmosphere of this delightfully decadent city is best soaked up on foot, within the narrow streets and in the markets, the finest of which is the Mercado Modelo arts and crafts market. One of the city's more unusual experiences is to ride the Elevador Lacerda, an Art Deco structure housing old electric elevators that carry passengers between the port and the old historic part of the town, on the hill.
Visitors are spoilt for choice when deciding which of Salvador's excellent beaches to visit. The range extends from calm coves ideal for swimming, sailing, and underwater fishing, such as Porto da Barra beach, to wild beaches facing the Atlantic Ocean, such as Aleluia beach, which attracts many surfers. Some beaches are surrounded by coral reefs, forming natural swimming pools that are ideal for children. The beautiful beaches are the location for many of Salvador's great festivals, including the performances and fireworks of the New Year festivities.
Salvador is Brazil's most Africanised state, a result of the thousands of slaves that were brought here 400 years ago to work in the sugarcane plantations. The Museu Afro-Brasileira is dedicated to this history and culture. The fusion of African and Latin cultures has given Salvador a unique brand of magic that is particularly evident at the city's many festivals, most notably the massive Carnival in mid-November, which attracts two million revellers from all over the world and is said to rival the famous Rio Carnival.
Become our Salvador Da Bahia Travel Expert
We are looking for contributors for our Salvador Da Bahia travel guide. If you are a local, a regular traveller to Salvador Da Bahia or a travel professional with time to contribute and answer occasional forum questions, please contact us.