Sao Paulo Travel Guide
Why? It's a fast-paced urban jungle, which dwarfs New York City in size several times over, so a holiday in Sao Paulo is not for those who come to South America for laid-back beaches and sunshine. It is a paradise though for shopping, eating, nightlife, and generally living it up among Brazil's wealthiest inhabitants.
When? No matter what time of year you travel to Sao Paulo the weather will be warm, but it is best to avoid a Sao Paulo holiday in summer, when it is wet and sweltering hot. Event-wise the best time to holiday in Sao Paulo is between April and December, when the city is alive with music, arts, fashion and cultural festivities.
Who for? A holiday in Sao Paulo is for those who enjoy life in the fast lane, fantastic designer shopping and top-rated restaurants, and culture vultures who can make the most of the city's vibrant arts and entertainment calendar. Those who are likely to be daunted by the world's third largest metropolis filled with smog and traffic might choose not to travel to Sao Paulo as a first choice holiday.
More Info: Making sense of this vast city is much easier with the help of our Sao Paulo travel guide, which provides all the information you need to plan an enjoyable holiday in Sao Paulo. The guide can be printed out to take along with you.
---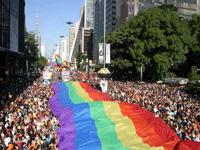 Sao Paulo Gay Parade © Alessandra Saraiva
Originally a mission station set up in 1554 by Jesuit priests on the banks of the Rio Tiete, the city of Sao Paulo is today an awesome megalopolis, the industrial and commercial powerhouse of Brazil. The city grew wealthy on coffee cultivation in the mid-19th century, thanks to the rich soil of the region, and the plantation owners took up residence in the bustling regional centre. Gradually the coffee barons diversified their interests and invested some of their wealth in local industry, resulting in a demand for labour and a resultant surge in immigrant population. Today 16-million proud 'Paulistanos' live in the congested, chaotic and cosmopolitan city centre and its sprawling surrounds. Lacking in natural attractions, the city's leisure pursuits are mainly cultural and artistic, and there are some impressive public buildings to delight sightseers, as well as some top-notch museums, theatres, bars, and some of the best shopping in Brazil. Neighbourhoods like Bela Vista and Bixiga are very photogenic, with both ornate mansions and impressive skyscrapers.
Become our Sao Paulo Travel Expert
We are looking for contributors for our Sao Paulo travel guide. If you are a local, a regular traveller to Sao Paulo or a travel professional with time to contribute and answer occasional forum questions, please contact us.
iExplore designs made-to-order, privately-guided adventure tours to Brazil and over 200 other world wonders. Come Back Different!
ADVERTISEMENT
---
Intrepid Travel is one of the world's leading suppliers of small group adventures focused on getting off the beaten track and having real life experiences in Brazil.

ADVERTISEMENT
---