Bandar Seri Begawan Travel Guide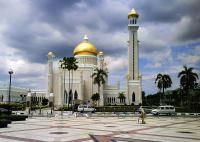 Sultan Omar Ali Saifuddin Mosque © Kurun
Despite its massive wealth - the product of Brunei's huge oil reserves - Bandar Seri Begawan is a relatively understated city. While luxury cars are a common sight along the wide streets, visitors are just as likely to see them parked in front of a roadside noodle stall as a stately office building or shopping mall. The city is the centre of the country's commerce, finance, and government.
Bandar Seri Begawan is rooted in Islamic tradition, and stunning ornate mosques (most notably gold-domed the Sultan Omar Ali Saifuddin Mosque and the Jame-asr Hassanil Bolkiah Mosque) make up a part of any sightseeing trip. The many royal buildings in Bandar Seri Begawan are also worth seeking out: though visitors are not allowed inside, the Istana Nurul Iman palace and the Royal Ceremonial Hall are stunning to see even from the outside. Visitors can get a sense of the palace interior at the Royal Regalia Museum.
No visit to Bandar Seri Begawan is complete without seeing the Water Village (Kampong Ayer). Best reached by water taxi, the village is comprised of seemingly endless houses on stilts that appear to float on the water. The Water Village even has its own museum, the Kampong Ayer Cultural and Tourism Gallery, which exhibits handicrafts made by the skilled inhabitants.
Bandar Seri Begawan also makes a good base for exploring Brunei and nearby Borneo. Tours are available by boat to Belalong National Park, a reserve offering canopy tours of the rainforest. Brunei is also known for excellent scuba diving, with several shipwrecks and coral reefs; as underwater tourism is still developing, divers will find the areas in pristine condition.
Become our Bandar Seri Begawan Travel Expert
We are looking for contributors for our Bandar Seri Begawan travel guide. If you are a local, a regular traveller to Bandar Seri Begawan or a travel professional with time to contribute and answer occasional forum questions, please contact us.