Resorts

---
Mountains Travel Guide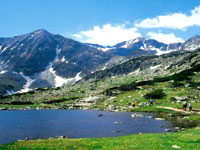 Moussala Peak, Rila Mountains © Bulgarian Tourism Authority
The natural beauty of Bulgaria is specially striking to first time visitors, and in particular it is the dominance of its magnificent mountains, ranging from sharp, snow-covered peaks and icy blue lakes to cool forests, bio-reserves and varied flora and fauna that really impresses the traveller. Among the heights are large ski resorts and mineral spas, quaint traditional villages, monasteries, and many opportunities for hiking, skiing, cave exploration and ecotourism.
More than half of Bulgaria is hilly or mountainous; the average elevation is about 1,575ft (480m). The Balkan Mountains in the central region cross the country from west to east, while the irregular Rhodope Mountains form the southeastern border with Greece, with the Rila and Pirin Mountains at their western end. Every mountain has its own characteristic appearance and fascinating prospects. The Rila Mountains are the most majestic and boast the country's highest peak, Moussala (9,596ft/2,925m), Bulgaria's most famous monastery, Rila, and the country's oldest ski resort at Borovets. The greenest and prettiest mountain range is the Rhodopes, which is home to Pamporovo, the largest ski resort, as well as plenty of culture and folklore centred on the town of Momchilovtsi, which is the most popular place for ecotourism. Museum villages in the Balkan Range also offer excellent possibilities for ecotourism and are a showcase for the hospitality and warmth of the Bulgarian people. With hundreds of lakes, deep valleys and rugged peaks, the Pirin Mountains are probably the most beautiful and are home to a variety of rare plants protected within the Pirin National Park. The most frequented mountain is Vitosha, with the capital city Sofia at its foot; it is popular for winter holidays and skiing, as well as for hiking and picnicing in the summer.
Become our Mountains Travel Expert
We are looking for contributors for our Mountains travel guide. If you are a local, a regular traveller to Mountains or a travel professional with time to contribute and answer occasional forum questions, please contact us.
Intrepid Travel, the world's leading supplier of small group adventures focused on getting off the beaten track, interacting with the locals and having real life experiences throughout Bulgaria.
ADVERTISEMENT
---