Sofia Travel Guide
Why? It is a city of ancient Byzantine churches, archaeological treasures, monuments and mineral baths adjacent to the magnificent Vitosha Mountain, which makes a holiday in Sofia, capital of Bulgaria, a rewarding and interesting experience. The delight of a holiday in Sofia lies in its street life, with open-air coffee shops, busy bazaars, rattling trams, gypsy flower-sellers and buskers all adding to the atmosphere.
When? For sightseeing and exploring the streets, the best time to travel to Sofia is during spring, summer or autumn, but if its winter sports you are after then travel to Sofia in winter when the city is blanketed in snow, for fun on the slopes of the nearby mountains.
Who for? Anyone interested in viewing first-hand the emergence of Eastern Europe from the grip of Communism will find fascination on a holiday in Sofia, for the city is a microcosm of history with its neo-classical Stalinist architecture and ranks of socialist housing blocks. There are other layers of history to be uncovered in Sofia too, and sightseers find plenty to awe and inspire. With a plethora of cheap flights to Sofia available, this is an ideal city break destination.
More Info: Our comprehensive, detailed Sofia travel guide is essential reading for anyone planning a holiday in Sofia. The guide contains up-to-date information about major attractions and excursions, public transport and airport facilities as well as a section of basic details, which includes entry requirements, currency exchange and medical treatment.
---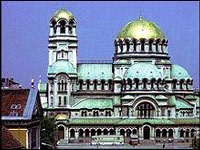 Alexander Nevsky Cathedral © Public Domain
Located in the Sofia Valley, the capital city of Bulgaria lies at the foot of the Vitosha and Lyulin Mountains, and is the centre of the country's political, business and cultural life.
Founded over 7,000 years ago around numerous hot and cold mineral springs, which are still available today, Sofia has flourished and declined around a variety of civilisations. It is one of the oldest settlements in Europe and numerous archaeological, cultural and historical monuments from its rich Thracian, Byzantine, Roman, Slav and Turkish history have been preserved among the modern edifices; the blend of the new and the old lends a charming quality to the capital, which is known to be a very attractive city.
Despite its modern, cosmopolitan nature, Sofia has a laid back atmosphere and the proximity of Mount Vitosha, offering a myriad of recreational opportunities on the city's doorstep, adds to the relaxed feel of the city. Like any capital city, Sofia also has a wealth of museums and galleries, and boasts plenty of cultural entertainment. In Sofia tourists can enjoy all modern amenities at the same time as feeling surrounded by history and ancient significance.
Become our Sofia Travel Expert
We are looking for contributors for our Sofia travel guide. If you are a local, a regular traveller to Sofia or a travel professional with time to contribute and answer occasional forum questions, please contact us.
Intrepid Travel, the world's leading supplier of small group adventures focused on getting off the beaten track, interacting with the locals and having real life experiences throughout Bulgaria.
ADVERTISEMENT
---