United States of America

---

---

---

---
Los Angeles Travel Guide
Why? There is surely no one in the world that would not choose to holiday in Los Angeles if given the chance, for this is where celebrities and movie stars pound the pavements and the sights are familiar icons to all. Los Angeles neighbourhoods like Beverly Hills and Hollywood are legendary and draw hordes of tourists to this megalopolis. People also travel to Los Angeles to enjoy its miles of sea-front suburbs which each have their own unique sun-bronzed beach culture.
When? High season for travel to Los Angeles is during the hot, sunny months of July and August, but those who prefer to avoid crowds and high prices are better advised to choose the months either side of peak season to holiday in Los Angeles. Winter can be wet but temperatures fairly mild.
Who for? Anyone who has ever seen a movie will have stars in their eyes when they holiday in Los Angeles and explore the many attractions and sights. In addition young and old alike are thrilled with the famous theme parks like Universal Studios and Disneyland.
More Info: Learn everything there is to know in order to plan a holiday in Los Angeles from our exciting Los Angeles travel guide, which lists events, attractions, excursions and even a selection of choice restaurants in this sprawling city, with directions on how to find them and public transport options.
---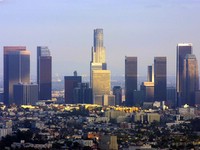 Los Angeles © Thomas Pintarik
Millions of visitors arrive each year in Los Angeles eager to experience for themselves the epitome of the American Dream: to find the self-indulgent living soap-opera lifestyles, experience firsthand the images that are strangely-familiar thanks to the 'big screen', and walk in the footsteps of the stars. The fantasy worlds of Disneyland and Hollywood, the famed extravagance of Beverley Hills and Malibu, and the sun-soaked beach culture are just some of the attractions within this 'City of Angels'.
Los Angeles is not really a city but rather a sprawling metropolis constituting more than 80 smaller city areas woven together by a daunting network of traffic-congested freeways without a clearly defined centre. LA is just one of these cities with Downtown at its heart, and lying outside the city limits is the surrounding conglomeration of cities that comprises LA County.
Los Angeles offers a dazzling variety of attractions and world-famous amusements. Downtown is a mixture of cultures and local communities: the traditional herbalists of Chinatown's Bamboo Lane; Little Tokyo with its sushi bars and Japanese gardens; and the narrow Latino-influenced Olvera Street. Los Angeles County is endowed with a rich diversity of backgrounds and is a mix-and-match of people from 140 countries speaking 96 different languages, of those who have left home to seek acceptance for ideas or unconventional lifestyles not tolerated in the more conservative parts of the country, and would-be stars with dreams of fame and fortune. West Hollywood is the focal point of gay and lesbian culture, and the posh beachside resort of Santa Monica and body-builders at Muscle Beach, as well as the childhood fantasy of Disneyland are all a part of the diversity, although not always a harmonious one. There are exciting museums, cinemas featuring every conceivable production, swanky boutiques with the latest fashions, comedy clubs, poetry readings and coffee house recitals, and music of every kind played in various venues throughout the city.
Underneath the huge 'Hollywood' sign on the crest of the Hollywood Hills, the high energy and pleasure-seeking atmosphere, bold billboards, sexy sun-bronzed people, bright lights and fancy cars are images of a city that everyone loves to hate; but whether one likes what one finds or not, Los Angeles must be experienced at least once in a lifetime.
Become our Los Angeles Travel Expert
We are looking for contributors for our Los Angeles travel guide. If you are a local, a regular traveller to Los Angeles or a travel professional with time to contribute and answer occasional forum questions, please contact us.