United States of America

---

---

---

---
San Diego Travel Guide
Why? Typical of California, San Diego is a city of freeways, spread out along stretches of magnificent Pacific beaches and choc-a-bloc with all sorts of attractions, which makes a holiday in sunny San Diego a series of seemingly endless adventures. The city's Spanish and Mexican roots add to its excitement, particularly downtown, which remains the tourist hub for those who travel to San Diego.
When? San Diego is a city for all seasons, so whenever you choose to take your San Diego holiday you will find something special to remember, whether it be the spring flowers, migrating whales, or autumn foliage cloaking the mountains. Weather-wise, all year round the city is blessed with sunny, mild days, so it is safe to plan to travel to San Diego at any time.
Who for? Whatever floats your boat, you will find the wind fills your sails in a holiday in San Diego, which offers everything from award-winning restaurants and fantastic shopping to historic and natural attractions. Do not hesitate to take the whole family when you travel to San Diego for the quintessential California experience, and then some.
More Info: Find all the details of the main attractions you can enjoy on a holiday in San Diego in our San Diego travel guide, from the world famous zoo to the beautiful beaches. The guide is updated regularly to ensure that when you travel to San Diego you can print it out and take it with you and have access to the latest information.
---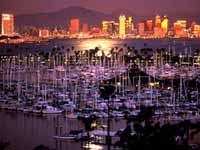 San Diego Bay © Bob Yarbrough, San Diego Convention and Visitors Bureau
San Diego characterises a typical Southern Californian beach city: with year-round sunshine and surf, a superb coastline with miles of sandy-white beaches, easygoing inhabitants, and a wide variety of world-class family attractions tourists, long-time vacationers and would-be residents can't help but be drawn to 'America's finest city'.
Although California's third biggest city with an ever-increasing population of more than a million, San Diego prides itself on its conservative small-town ambience, with very little of the pollution, highway congestion and raciness of Los Angeles. In 1769 a Spanish missionary by the name of Father Junipero Serra established a Catholic mission and fortified settlement in what was later to become San Diego; it was the first permanent European settlement on the West Coast of the United States. It remained a village backwater until, with the bombing of Pearl Harbour during World War II, the US Naval Fleet Headquarters was relocated to San Diego Bay and the booming of wartime activity transformed it into a thriving city.
The city is a vibrant collection of colourful neighbourhoods and communities. It has award-winning restaurants, trendy shopping districts, attractions such as the world-renowned San Diego Zoo and SeaWorld, and a dynamic downtown district that includes the city's historic Gaslamp Quarter. There are numerous indications of its Mexican and Spanish heritage in the traditional architecture, typical Mexican cuisine, and strong links with the town of Tijuana just across the Mexican border.
San Diego is also rich in art and culture, and the city boasts the largest urban cultural park in the US, with beautiful gardens and Spanish architecture featuring 15 museums, art galleries and theatres to be found in Balboa Park. More than 70 miles (113km) of beaches around the city offer superb surfing and beach activities and provide the perfect introduction to this accessible and laid-back city.
Become our San Diego Travel Expert
We are looking for contributors for our San Diego travel guide. If you are a local, a regular traveller to San Diego or a travel professional with time to contribute and answer occasional forum questions, please contact us.