United States of America

---

---

---

---
San Francisco Travel Guide
San Francisco travel Forum
---
Why? Renowned as the world's most free-spirited city, a holiday in San Francisco sends one on a roller-coaster ride of fun in keeping with the trams that traverse its steep, hilly streets. From its diverse neighbourhoods to its bayfront pleasure-land and the offshore bulk of the Alcatraz prison, overlooked by Nob Hill, it is a city of unique charm and character.
When? The weather in San Francisco stays a stable 'cool to mild' throughout the year, though fog can put a damper on things in the summer and if you holiday in San Francisco during winter pack an umbrella, because rain is likely. There is thus no best time to visit, and San Francisco welcomes visitors all year round.
Who for? There are so many facets to a holiday in San Francisco, from history to hippies, prisons to parks, seafood to shopping, and art to architecture, that the city can truly be said to offer something for everyone. San Francisco is also rated as the world's most 'gay-friendly' city and its annual Gay Pride parade is a popular event.
More Info: Where to eat, what to see, what to do, which events to enjoy on a holiday in San Francisco: detailed information on all these things is available in our San Francisco travel guide which you can print out, email or simply digest when planning to travel to this fun city.
---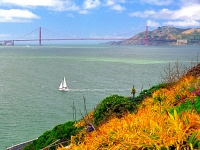 Golden Gate Bridge from Alcatraz © David Paul Ohmer
The most attractive of American cities and regularly voted the best city in the USA, San Francisco is adored because of its colourful history, dramatic setting and its laissez-faire atmosphere, a quality missing from synthetic Los Angeles. It is a regular trendsetter in everything alternative, from flower-power to 'free love' and gay liberation; it prides itself on being individualistic, down-to-earth and cultured.
Streets rollercoaster up and down the hills, and when not swathed in the city's trademark fog, there are superb vistas of San Francisco Bay, spanned by one of the world's most famous sights, the Golden Gate Bridge. Surrounded by hills and urban development, traversed by bridges, dotted with sails and 14 small islands, including the notorious Alcatraz, the bay is the largest inlet on the Californian Coast. Fisherman's Wharf at the edge of the bay is a popular place to eat, stroll and shop, with its resident seals a favourite photographic subject.
Within the surprisingly compact city are distinct neighbourhoods that reflect the cultural background of diverse communities that were attracted to San Francisco by the discovery of gold in 1848, and the promise of a new life for those desperate to escape their harsh circumstances. Most of San Francisco's residents were born outside the city and this mix of cultures is reflected in the dragon-studded temples of colourful Chinatown and Japantown, the characteristic bohemian flavour of the Italian pasta restaurants and cappuccino cafes in North Beach, the old Spanish-speaking Mission District that blends with the nightlife of SoMa, the modern Financial District, the gay centre of Castro and The Haight, characterised by the memory of the hippie movement of the 1960s.
Become our San Francisco Travel Expert
We are looking for contributors for our San Francisco travel guide. If you are a local, a regular traveller to San Francisco or a travel professional with time to contribute and answer occasional forum questions, please contact us.